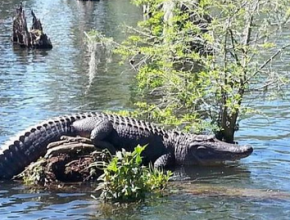 This time MilitaryFares.com looks at Destination Louisiana as our next travel destination.  With nicknames like The Pelican State, The Sugar State and The Child of the Mississippi—Louisiana definitely sounds like an interesting place to visit.  It has an average yearly temperature of 68 degrees which makes it an ideal location for fun any time of the year!
Louisiana is the home of Baton Rouge, LSU, New Orleans and Mardi Gras! (Fat Tuesday) –Celebrating food and fun!  [Quick Note:  Though greatly known as a Louisiana celebration, Mardi Gras is celebrated in many other places as well.]
Louisiana has some of the most famed foods in the world.  From its Oysters and Catfish to its Gumbo, Jambalaya, Red Beans and Rice, they are all Must Haves should you make your way to Cajun Country.  And please don't forget the Crawfish, Crabs and Shrimp—known favorites in Creole cooking that will keep you coming back for more.  ["…mmm…woo dat good!"]
However, there's more to do than just eat your way through your Louisiana vacation.  You might consider taking a few tours to discover some the wonderful sites and culture found in the state's 64 Parishes.  (In case you didn't know, a "parish" is similar to a county and Louisiana is the only state in the U.S. that has them!)
Many of the things in Louisiana is similar to other destinations we've mentioned, but you do it Cajun Style!  There is hiking, fishing, birding, boating, golfing, biking, canoeing and kayaking…oh yeah, and shopping.  Lots and lots of shopping.
If you are more into culture and history, you can check out the New Orleans Museum of Arts.  It has a collection of over 40,000 works of art ranging from its Decorative Art Collection to its African and Asian Arts Collections to a great collection of photographs and sculptures.  Then, you can move on to the aquariums and zoos and finish up at "haunted Louisiana" sites.  I know you'll love that!
So let's say you are stationed somewhere in the Louisiana area.  You could be in the Air Force and stationed at Barksdale Air Force Base (AFB).  Close to Bossier City, it serves as a pilot training facility.  Or maybe you are I the Army.  In that case, Fort Polk would more than likely be your place of duty.  It has been reported that Fort Polk is the second largest employer in the state and has a large economic impact on communities.  It's also a Joint Readiness Training Center—where soldiers can be both trained and deployed for combat missions.  Each facility has an array of recreational activities for its Service Members, which in turn, provide additional activities for you as a member of the Armed Forces.
There are other military museums and training sites to visit.  So we recommend you grab your favorite beverage, get comfortable in your best chair and visit us at www.MilitaryFares.com to search for the best prices on tickets, hotels and/or packages.