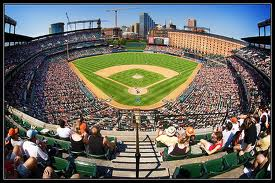 If you are shopping for military discounts for airline tickets to the Maryland-Virginia area, look at the local attraction discounts available to Department of Defense personnel. These will help you put together an exciting vacation itinerary for the entire family. Contact the Fort Detrick Leisure Travel Office for more information and to purchase tickets.
Golf lovers can watch upcoming LPGA stars at the Challenge at Musket Ridge, held from August 20 to 26 at Musket Ridge Golf Club in Myersville, Maryland. This is the only female professional golf tournament within Maryland and proceeds help support local charities benefitting women and children. To get the most from this experience, volunteer to work at the event.
If you are purchasing a
military discount airline ticket
to catch and Orioles game, you are in luck. Sunday, September 9, is Joint Services Military Family Day at Oriole Park. Ticket prices include a catered picnic meal, a chance to win door prizes, and appearances from the Oriole Bird mascot and your favorite players. Tickets are only on sale until September 5.
Richmond International Raceway offers a military appreciation program that includes two special offers in September. Military members pay only $23 for a ticket to the Virginia 529 College Savings 250 on September 7. Tickets to the September 8 Federated Auto Parts 400 range from $45 to $90 for service members. A hospitality package available for this race costs $75 and includes food, beverages, musical entertainment, and a souvenir program.
While visiting Maryland, service members can even purchase Washington Redskins tickets for the 2012-2013 season. If they stop by the Leisure Ticket Office at Fort Detrick, active duty military can get one pair of tickets to a single game for $260. They can
click here
to find
discount airline tickets
to save even more money on travel to the game.