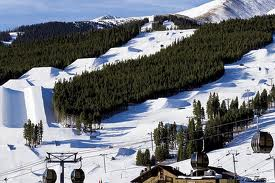 If you are active duty, reserve, or retired military, an NAF or DoD government employee, or National Guard, you must add Rocky Mountain Blue at Keystone Resort to your vacation list. Managed by the U.S. Air Force Academy 10 Force Support Squadron, Rocky Mountain Blue is the perfect mid-western destination during any season. This budget-friendly resort was designed for Armed Services members and qualified civilians.
Whether you like to golf or ski, Rocky Mountain Blue can meet your needs. Since 2011, Keystone and the Air Force have been offering discounts on lodging, transportation, equipment rental, lift tickets, skiing, golf, meals, and other recreational activities. Purchase discount airline tickets to Denver International Airport for the entire family and plan a late winter or early spring trip to Keystone, Colorado.
The self-contained Keystone Resort operates year-round and features two villages with breathtaking scenery as the backdrop. The family will enjoy shopping in the villages, hiking in the woods, and riding to the top of a mountain. Novice skiers can take lessons at the on-site ski school and then enjoy day and night skiing. The A51 Terrain Park is the largest night park in Colorado and Adventure Point is one the best tubing spots.
During warm weather, guests enjoy golf, tennis, fly-fishing, river rafting, and horseback riding. Keystone Lodge even features a spa for a chance to relax and unwind with a facial, massage, specialized bath, or body therapy. If you have planned leave this spring, purchase a military discount airline ticket to Denver for the family now.
Guests at Rocky Mountain Blue even enjoy discounted dining, receiving ten to 15 percent off their bill at all participating Keystone Restaurants. With military discounts for airline tickets and Keystone Resort accommodations and activities, service members enjoy all this and more at low prices. Click here to book your airfare now.